8-Day Lodge-to-Lodge Golfo Dulce Sea Kayaking Trip
An Epic lodge-to-Lodge Adventure Circumnavigating Costa Rica´s Tropical Fjord
Comfortable Hotels,
Ecolodges, Glampings
Comfortable Hotels,
Ecolodges, Glampings
Our 8-Day Lodge-to-Lodge Sea Kayaking Adventure is the premier sea kayak adventure in Costa Rica. You'll be circumnavigating the northern region of the Golfo Dulce,  a paddler's dream world of dramatic contrasts where emerald green peaks meet turquoise waters.  Our 8-Day Lodge-to-Lodge Sea Kayaking Adventure is all-inclusive and takes care of you from when you arrive in Costa Rica to when you depart.  Join one of our trips and enjoy one of the world's best sea kayaking and wildlife-watching destinations. Start & End Location: San Jose International Airport (SJO).
Highlights
Off-the-beaten-path nature-destination, teeming with wildlife & breathtaking scenery.
Paddle protected ocean waters with dolphins and turtles explore deserted beaches, isles, lush rainforests, ancient mangrove forests and remote snorkeling spots.
You'll stay at three unique waterfront, family-run ecolodges, each serving tasteful meals made with fresh, natural ingredients.
Start: San José, Costa Rica  End: San José, Costa Rica
Kayaking route for the 8-Day Lodge-to-Lodge Golfo Dulce Sea Kayaking Trip. Click here to view full screen map.
Itinerary
DAY 1. A SEA KAYAKING COSTA RICA REP WILL MEET YOU AT SJO AIRPORT
Today has been designated as your arrival day! You may arrive at any time on this day. A Sea Kayaking Costa Rica representative will meet you at San Jose International Airport (S.J.O.) and take you to a conveniently located hotel, only a 10-minute drive from the airport. Here, you'll have the chance to relax and unwind from your international travels.
Accommodation:
Country Inn and Suites by Radisson
No meals included today
DAY 2. SEA KAYAKING ORIENTATION AND PADDLE
The day begins with a traditional Costa Rican breakfast, including fresh fruit, rice and beans, and wonderful local coffee. Your guide-driver will meet you this morning and sweep you away on a beautiful drive from the Central Valley highlands down to the Osa Peninsula, along the Pacific coastline and the country's best and newest road. We will drive by villages, rainforests, stunning coastlines, and traditional plantations. After a morning of travel, we will reach El Chontal Ecolodge, located right on the banks of the Golfo Dulce. After settling into your own wooden jungle cabin, we will serve a delicious lunch. Following lunch and a brief rest, we'll meet for the kayak orientation & gear fitting, followed by our first paddle of the trip, exploring the nearby mangrove forest and coast. Dinner is served after sunset in the lodge's family's house.
Accommodation:
El Chontal Ecolodge
Meals:
Breakfast, Lunch & Dinner
DAY 3. PADDLE TO OUR NEXT LODGE, STOPPING ALONG THE WAY
This morning, after another glorious breakfast at our host's home, we'll pack up for our 4-day circumnavigation of the northwest portion of the Sweet Gulf. We will put on the water paddling out of Rincon Bay, following the coast south around Punta Palmas, and reach the village of Playa Blanca. This 12 Km (7 miles) paddle will take us by the Mangroves Forest of the Rincon River. Along our route, we will stop on deserted beaches for a rest, snack, or swim. This water trail is perfect for observing sea turtles and avian wildlife, mainly vast colonies of beach-dwelling scarlet macaws. At Playa Blanca, we'll stay at Lapamar Ecolodge, a family-owned and operated property offering spacious wooden cabins, each with a private bathroom. Our host will serve our meals at the centrally located open rancho, starting with a freshly prepared lunch. Depending on the tides, we'll paddle out again in the afternoon, visiting the nearby mangrove of Barrigones Creek. This is a prime location for spotting wildlife, including coatis, monkeys, squirrels, and sloths. If the tide is not right, we will walk in the nearby rainforest and village. Dinner is prepared with fresh local ingredients and is served right after sunset.
Accomodation:
Lapamar Lodge
Meals:
Breakfast, Lunch & Dinner
DAY 4. SUNRISE PADDLE, CROSSING THE CALM GULF
Early this morning, our host, Don Alvaro, will brew fresh coffee for us and prepare a hearty breakfast to fuel our 14 km-long (8.7 miles) stretch to Saladero. The glass-like conditions of Golfo Dulce will provide great opportunities to spot both the pantropical and bottle-nose dolphins! Upon landing on the other side of the Gulf, we'll settle in our cozy glamping cabins. ¨ Glamping ¨, which stands for glamorous camping, consists of large, sturdy tents on an elevated platform featuring real beds and comfortable mattresses (with immaculate bedding provided). After settling in, a delicious lunch is served. After our meal, you may relax or join us for a guided walk on the trails leading into the primary rainforest. At 5 o'clock, we will enjoy hors d'oeuvres served at the Beach House (the communal lounge and dining area). You can pair those with the complimentary fresh fruit juices or order a cold beer or a glass of wine. Dinner is served after we've witnessed a colorful sunset over the Golfo Dulce. After dinner, you'll enjoy a well-deserved night's rest, immersed in the sound of the rainforest cacophony.
Accommodation:
Saladero Ecolodge
Meals:
Breakfast, Lunch & Dinner
DAY 5. LAYOVER AT SALADERO ECOLODGE
This is a layover day; after a delicious breakfast, rest and relax all day or join us in one of the below activities, if not do them all.
Exploring the Rio Esquinas Mangrove Estuary – Join your guide on a paddle along a slow-moving river, spotting wildlife, admiring some of the tallest red mangroves in the world, and exploring narrow small channels l
Snorkeling – only 15 minutes away by kayak, there is a coral reef and beautiful beach
Swimming – the warm and calm waters in front of the lodge are perfect for swimming
Explore the rainforest - walk on the trails leading into the primary rainforest.
Accommodation:
El Saladero Ecolodge
Meals:
Breakfast, Lunch & Dinner
6. SET OFF IN OUR KAYAKS TO REACH THE MOGOS ISLES
After a delicious coffee and breakfast, we will say 'hasta la vista' to our hosts at Saladero Ecolodge and set off for the Mogos Isles; this is one of the prime opportunities to spot dolphins and other marine life. After a well-deserved break at the Isles, we'll continue crossing the Golfo Dulce, surrounding Punta Rincón, and reaching the familiar El Chontal Ecolodge. After today's amazing last and longest paddling stretch, we'll wash up and enjoy the last homemade lunch at El Chontal. After lunch, we will visit a local organic farm to learn about their sustainable practices and crops. The visit, however, will focus on the farm's organic cacao crop, and we will learn about the stages of the traditional production of delicious high-percentage chocolate. The best part of the tour is tasting the organic fruit and chocolate fondue!
Accommodation:
El Chontal Ecolodge
Meals:
Breakfast, Lunch & Dinner
DAY 7. TAKE A SCENIC FLIGHT BACK TO SAN JOSE
This morning, after breakfast, we will head for the airstrip in Puerto Jimenez, where your pilot will fly back to the Central Valley on a 50-minute scenic flight along the Pacific Coast. Upon landing in San Jose, a Sea Kayaking Costa Rica representative will meet you at the airport and provide transportation to a nearby hotel. The rest of the afternoon is designated for leisure, where you can relax, take advantage of the hotel's amenities and nearby restaurants, or explore downtown San Jose on your own.
Accommodation:
Country Inn and Suites by Radisson
Meals:
Breakfast
DAY 8. DEPARTURE DAY OR EXTEND YOUR STAY IN COSTA RICA
We have arranged for your transportation to the airport in time for your flight home, or continue to enjoy more of Costa Rica with one out trip extensions.
Meals:
Breakfast
2023
2024
Pricing
Inclusions
Basic Trip Option
Reservations
2023
The earlier you book, the more choice of available dates you'll have, and once you book, your price is guaranteed.
December 2nd – 9th
December 16th – 23rd
December 23rd – 30th
Trips run Saturday – Saturday unless otherwise stated. Start/End dates may vary. Do not book flights until your trip details are confirmed.
2024
Pricing
Inclusions
Basic Trip Option
Reservations
No previous experience is necessary but is preferred. If the guest has no experience, they are expected to be is good physical condition. 
Activity Snapshot

DAY 2
1.5 hours/ 5 km (3 miles) of sea kayaking
DAY 3
3.5 hours/ 12km (7.5 miles) of sea kayaking
DAY 4
4 hours/ 14 km (8.7 miles) of sea kayaking
DAY 5
optional 2-4 hours/ 6-12 km (3.7-7.5 miles) of sea kayaking
DAY 6
5 hours/ 20 km (12.5 miles) of sea kayaking
For your arrival day, and the day before departure, this trip features a 4-star hotel near the International Airport in San Jose. The remainder of the nights are in comfortable ecolodges, or luxury glamping tents, that make the most of their rainforest locations featuring beautiful views and lush settings.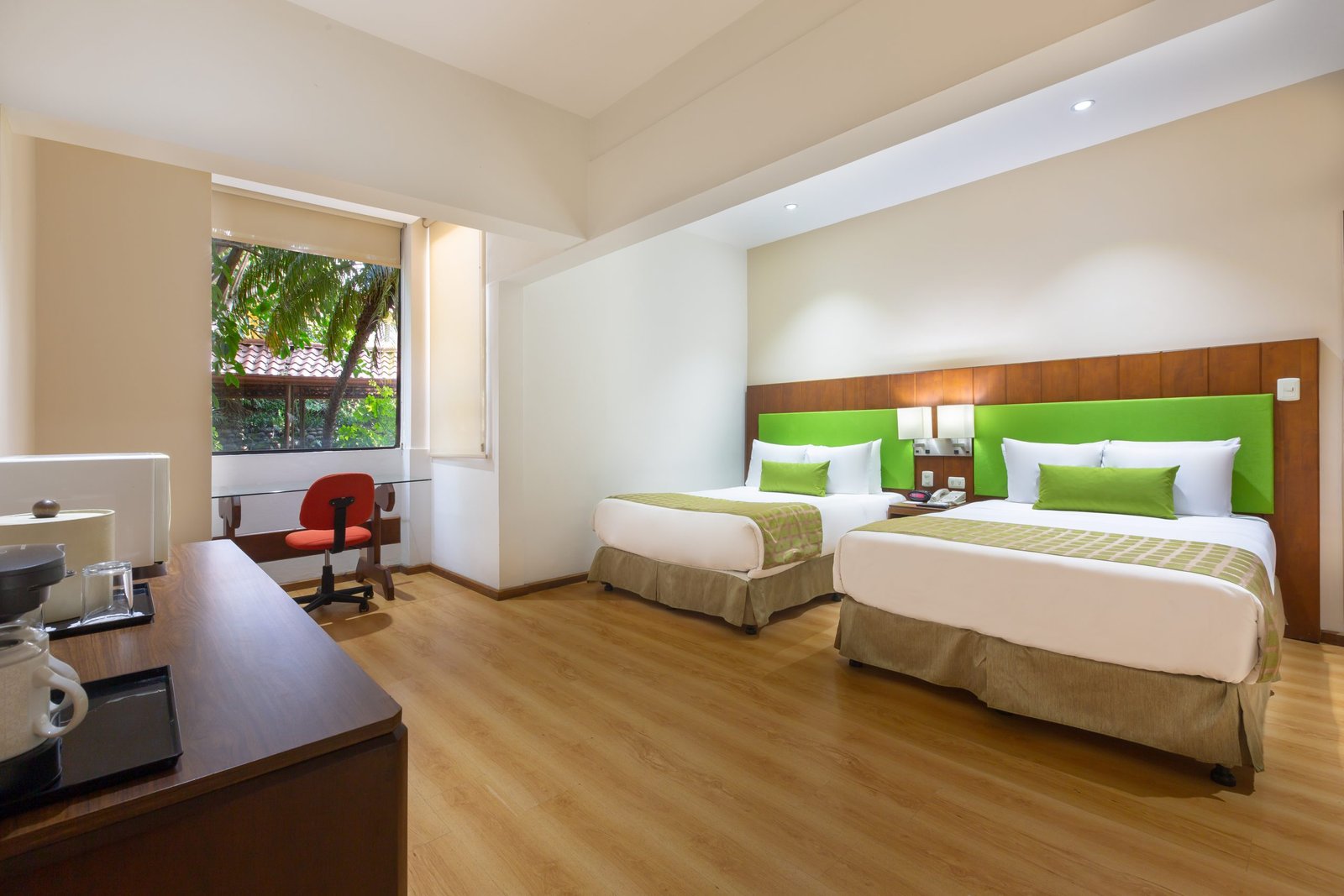 Country Inn & Suites
This comfortable 4-star boutique hotel is conveniently located only a few minutes away from San Jose International Airport and is an ideal location to unwind from your travels. Relax and recharge by the hotel swimming pool or in your room with air conditioning, in-room coffeemaker & Wi-Fi. The hotel features a restaurant and bar, and just a short walk from the hotel is a shopping plaza that offers a wide variety of cuisines from Japanese to Mexican to Italian to juices to bar food. There is also a mini-mart grocery store where you can buy drinks, groceries, and ready-to-eat foods. Purchase souvenirs from a nearby store, head to Plaza Real Cariari Shopping Mall, or take a taxi downtown to enjoy parks, museums, people-watching, and many entertainment venues.
El Chontal Ecolodge
El Chontal's cabins are literally carved out from the surrounding mangrove forest, using fallen trees and sustainable wood species. Their rustic and unique architecture is rich in design and ingenuity and favors ventilation. The cabins are spotlessly clean and well-kept. The beds are firm and comfortable, and the bathrooms are impeccable. A cool breeze and rich jungle sounds from the surrounding forest enter the room at night. In addition to the cabins and gardens, the centrally located spacious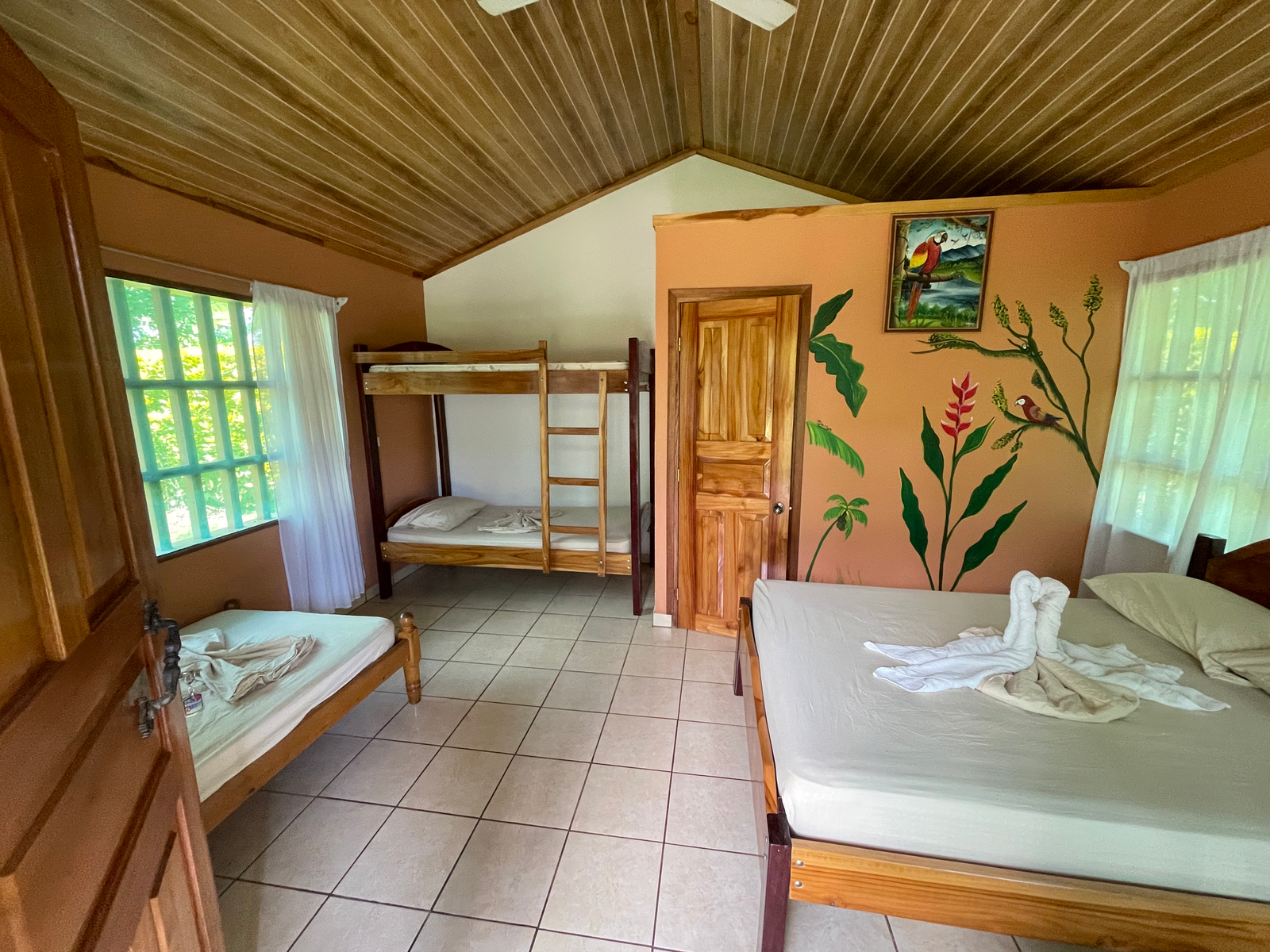 Lapamar Ecolodge
Located in the tiny community of Playa Blanca, this family-owned beachfront property offers spacious, basic wooden cabins with a private bathroom and porch. Meals are served only steps away from your cabin in the cozy, quiet rancho. The property is surrounded by several species of fruit trees, attracting all sorts of exotic birds like the Yellow-throated Toucan. The beach right in front of the property is ideal for swimming and spotting Scarlet Macaws as they feed off the Beach Almond trees sca
Saladero Ecolodge
Nestled between the brilliant turquoise waters of the Golfo Dulce and the lush green mountains of Piedras Blancas National Park, the Saladero Ecolodge is a place for ocean adventure and relaxation. This vast waterfront property with green fields, gardens, and rainforest jungle trails is a paradise for any sea kayaker looking for tranquility and untouched nature. Delicious homemade meals are served in the lounge area overlooking the Gulf. This rainforest-style ecolodge is only accessible by boat.
Weather
For San Jose, you can expect daytime temperatures in the 70°s and 80°s Fahrenheit (low 20°s – high 20°s Celsius), with evening lows in the 60°s (15°-21 °Celsius). While in Golfo Dulce, daytime temperatures are in the 80°s and 90°s Fahrenheit (high 20°s – low 30°s Celsius), with evenings anywhere in the 70°s (low 20°s Celsius). February and March are consistently the driest months; some rain can be expected during December, April, and May.
| | Jan | Feb | March | April | May |
| --- | --- | --- | --- | --- | --- |
| | | | | | |
| San Jose | | | | | |
| Golfo Dulce | | | | | |
| | Jan |
| --- | --- |
| | |
| San Jose | |
| Golfo Dulce | |
| | Feb |
| | |
| Golfo Dulce | |
| | March |
| | |
| Golfo Dulce | |
| | April |
| | |
| Golfo Dulce | |
| | May |
| | |
| Golfo Dulce | |
Similar Trips to the 8-Day Lodge-to-Lodge Golfo Dulce Sea Kayaking Trip:
5 Reason you´ll love a Sea Kayaking Costa Rica Trip
You will find five great reasons to travel with Sea Kayaking Costa Rica.
SKCR Newsletter Aug 2022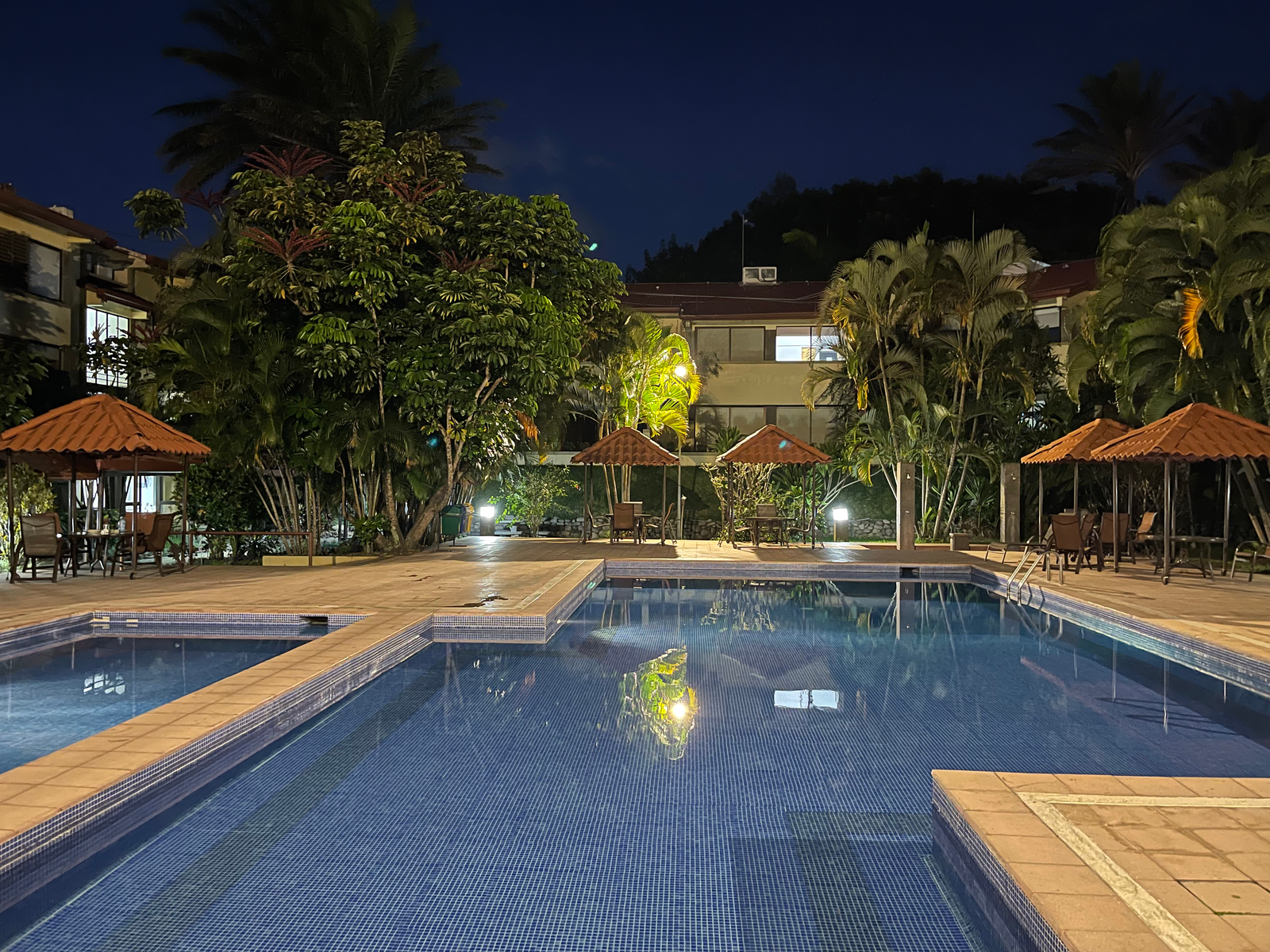 What to expect on your arrival day to Costa Rica?
You may not know what to expect when you set off on your Costa Rican paddling adventure. Relax; you are in good hands with Sea Kayaking Costa Rica!
SKCR Newsletter Aug 2022