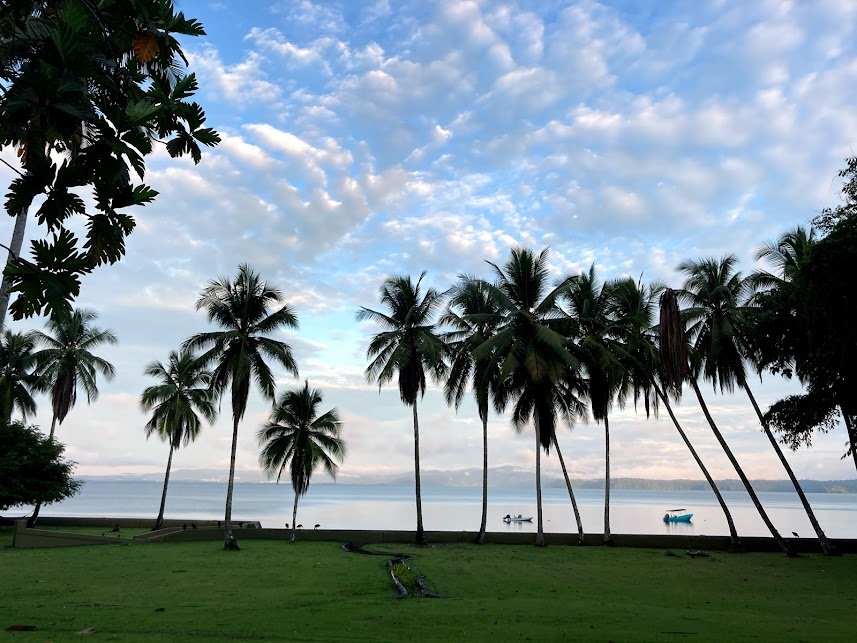 An Early Start
Then we get on the water early, fueled up for our longest paddle yet.
Well-prepared
Though we will cover 21 kilometers, traversing the northern curve of Gulfo Dulce, you will be ready for you've already paddled from El Chontal to La Palma one day (12km) and all the way across the gulf the next (14km). 
Wildlife abounds on the Gulf
If we are lucky we will again be treated to dolphin and turtle sightings, as well as the accompaniment of terns, seagulls, and pelicans.
A welcome "pit-stop"
When we reach the Mogos Islands, about halfway into our trip, you'll have time to get out of your boat, stretch your legs, and eat a leisurely snack. This area is often used by local fisherman for much the same reason.
You made it!
Before you know it, you'll have succeeded at the longest paddle yet–and before lunchtime. The gracious grounds of El Chontal Ecolodge will welcome you back from you long journey across the bay.
R&R
After another homemade and delicious lunch, you'll have some time for a siesta in the hammocks or in your own cozy cabin.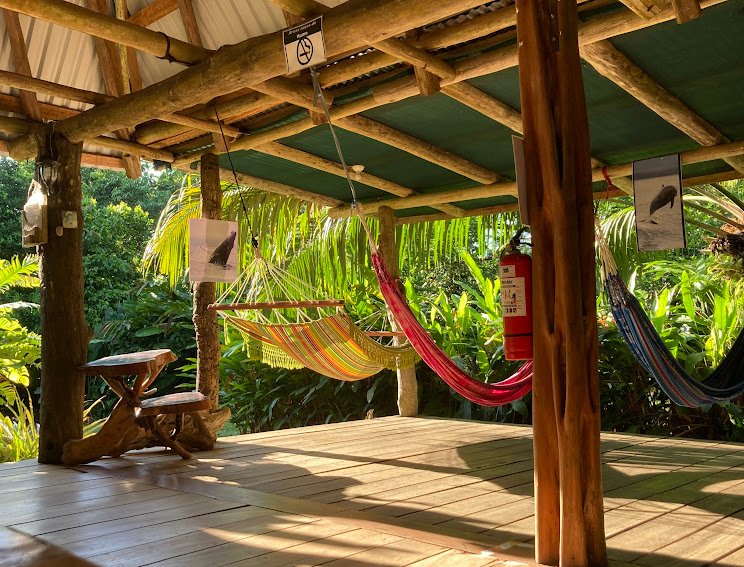 Afternoon delights
But soon we will be off again. This time to an extraordinary organic farm. Among many other crops, you will see firsthand, the wonders of cacao production.
Straight from the farmer's mouth
As we walk the wooded paths of this family farm, Don Herman will tell you about the traditional, sustainable practices that support the crops and are restoring the landscape. There is one cacao tree that his father planted over 60 years ago!
Are you a chocolate maker?
Soon the rest of the Herman family will be welcoming you to their cafe and inviting you into the chocolate making process. 
Tasting time!
ut don't worry, you won't need to master the chocolate-making craft in order to enjoy the taste of it. Along with some fresh tropical fruit, you'll get some mouth-watering treats, and a glass of chocolate milk.
And it's good for your face 😛
If you are brave, you can round out the experience with a cacao facial. And yes, a rinse and towel are included.
Back to the big city
On the morning of Day 7, we'll catch a 50-minute scenic flight along the Pacific Coast to San Jose. Once back at the Country Inn and Suites, you'll have the rest of the day free. You can relax in your room or by the pool. 
Or enjoy San Jose
You can also choose to take a self-guided tour of Costa Rica's capital, enjoying many of the historical, cultural, and culinary treats it has to offer.
For instance you might want to visit the National Museum of Costa Rica.
Not a palace, but a great theater
There's also the National Theater of Costa Rica, which boasts many fine statues as well as an airy gallery.
Dine traditionally . . . or not
You may be hunkering for some good ol' fast food which, like any big city, can be found in abundance in San Jose. But if you're looking for a more traditional option there are restaurants like Nuestra Tierra, where you can eat your fill of Costa Rican specialties. 
Be sure to take Pura Vida when you go
All good things must come to an end and on Day 8 you'll be heading home with tales to tell and many memories of your sea kayaking adventure in Gulfo Dulce, Costa Rica. Pura Vida!
About Matias, owner-operator
Matías's outgoing and friendly nature makes him the guide you are looking for. Not only that, but he's perfectly fluent in English and Spanish. His two decades of experience in the adventure travel profession and his extensive expertise in expedition leadership give him an edge in creating a fun, safe, and fulfilling experience that will make your vacation one to remember.
With a master's degree in Environmental Management & Ecotourism, he has a strong interest in supporting sustainable tourism, biodiversity, and Costa Rica's commitment to being an environmental leader.
He loves all adventure sports, especially those involving water. His background includes sea kayaking guidance/instruction, whitewater kayak instruction, whitewater rafting guidance/instruction, surfing instruction, sustainable tourism consulting, and a strong background in Costa Rica travel consulting as well as international guiding experience in Colorado, Canada, Panama, and Norway.