Day two when the real fun begins
On this morning, you'll wake up hardly be able to believe that you are finally in Costa Rica! 
The strong local coffee served with a delicious breakfast will help you fully grasp that your dream trip is happening.
Pacific ho!
Soon we'll be on the beautiful drive to the Osa Peninsula.

You'll enjoy a view of lush rain forests, stunning seascapes, and traditional villages and plantations.
The drive will be approximately five hours and we will stop for a bano- and refreshment-break along the way. 
Before you know it, we'll be at El Chontal, located at the northwest corner of the Golfo Dulce.
Built for your comfort
El Chontal's cabins are literally carved from the surrounding mangrove forest by the owners of the property, using fallen trees and sustainable hardwood species.
You'll feel right at home in your neat and cozy dwelling with your own bathroom and small porch.
Your Gathering Place
In addition to the cabins, and gardens, the centrally located spacious pavilion is a welcoming place to relax and read, hang in the hammocks, do yoga, or play games. 
Afternoon paddle 
Following lunch and brief rest, we'll meet for the kayak orientation and gear fitting, followed by our first paddle of the trip. During this warm-up excursion, we will explore the nearby mangrove forest and coast. Though we will not travel far from the ecolodge, be prepared to keep your eyes peeled for exotic flora and fauna!

Day Three: Lapamar
The third day of your adventure begins with another hearty meal.
After breakfast, we'll quickly load the boats for our 4-day circumnavigation of the northwest portion of Gulfo Dulce, the Sweet Gulf.
After paddling out of Rincon Bay, we'll follow the coast south toward the village of Playa Blanca. This water trail is perfect for observing sea turtles and avian wildlife, in particular, vast colonies of beach-dwelling scarlet macaws. 
Along our 12-kilometer (7 mile) route we may stop on a deserted beach for a rest, snack, or swim.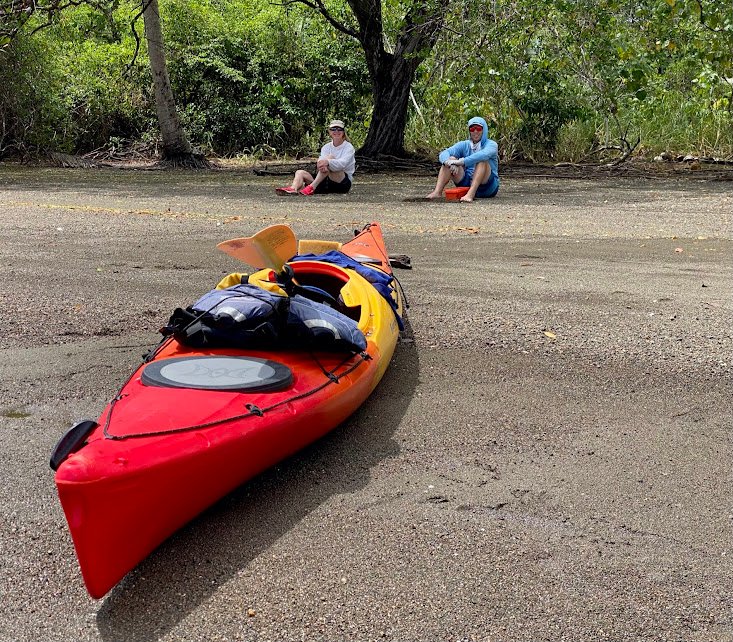 We will arrive at the tiny beach village of Playa Blanca in time for lunch. 
There, we'll  stay at Lapamar Ecolodge, a family owned and operated property, offering spacious wooden cabins, each with a private bathroom. Our host will be serving our meals at the centrally located open rancho, starting with freshly prepared lunch.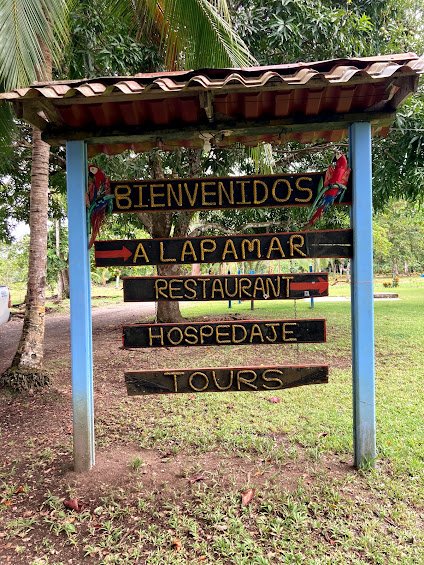 The tide will tell
In the afternoon, depending on the tides, we'll paddle out again visiting the nearby mangrove of Barrigones Creek. This is a prime location for spotting wildlife, including coatis, monkeys, squirrels and sloths. 
If the tide is not right for a paddle tour, we'll take a walk in the nearby rainforest and village. Afterward, there will be some downtime to rest or purchase refreshments at the dining hall or nearby canteen. A sumptuous dinner–featuring fresh, local ingredients–will be served right after sunset.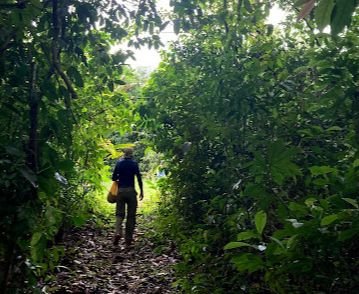 On the cusp of the crossing
After these two amazing days, you'll be warmed-up and hopefully eager for the next leg of our journey . . . the crossing!
Our next newsletter will cover that epic journey across the Sweet Gulf. 
Matías's outgoing and friendly nature makes him the guide you are looking for. Not only that, but he's perfectly fluent in English and Spanish. His two decades of experience in the adventure travel profession and his extensive expertise in expedition leadership give him an edge in creating a fun, safe, and fulfilling experience that will make your vacation one to remember.
With a master's degree in Environmental Management & Ecotourism, he has a strong interest in supporting sustainable tourism, biodiversity, and Costa Rica's commitment to being an environmental leader.
He loves all adventure sports, especially those involving water. His background includes sea kayaking guidance/instruction, whitewater kayak instruction, whitewater rafting guidance/instruction, surfing instruction, sustainable tourism consulting, and a strong background in Costa Rica travel consulting as well as international guiding experience in Colorado, Canada, Panama, and Norway.